PRINT & COPY RUBBER STAMPS STICKERS LABELS

CONVERSIONS & DUPES PRESS YELP ETSY SITE (RIGHT CLICK)
Book Mention:
EAST VILLAGE-
LENS ON THE LOWER EAST SIDE
"The tiny Source Unltd on East
9th Street, our anti-Kinko's, overflows with artists, writers, and musicians who rely on their long list of services."



**
"The top shop for photocopies, The Source Unltd. is one of 11 businesses in the East Village that scored grant money to make environmentally friendly upgrades. The Source uses recycled paper for copies, sells recycled notebooks and takes other steps to cut electricity expenses. "We're aware of what we're doing. We try and make it as little impact as possible," Mr. Mollica said. The ceremony for all the grant recipients will be held on Thursday at 3:30 p.m. in Lina Frey on Houston Street, which also won some "green" cash of its own."


Print shop is flying high
xxxxxx

** EV GRIEVE interview with
Santo Mollica by
James Maher, photographer
@ The Source Unltd Print & Copy Shop


"Best way to avoid
"losing it" at Kinkos"
***Voice article "Positively 9th Street" mentioning
the Source Unltd Copy Shop
offering rubber stamps & business cards.


***For LES History Month May 6, 2014
The 6&B Garden hung photos of their history around the garden. Shown: photos taken of The Source Unltd. Copy Shop's 25th Anniversary Party in the garden in 20007. photos by Scott Dwyer

| | |
| --- | --- |
| | NO LIMITS AT THE SOURCE UNLTD |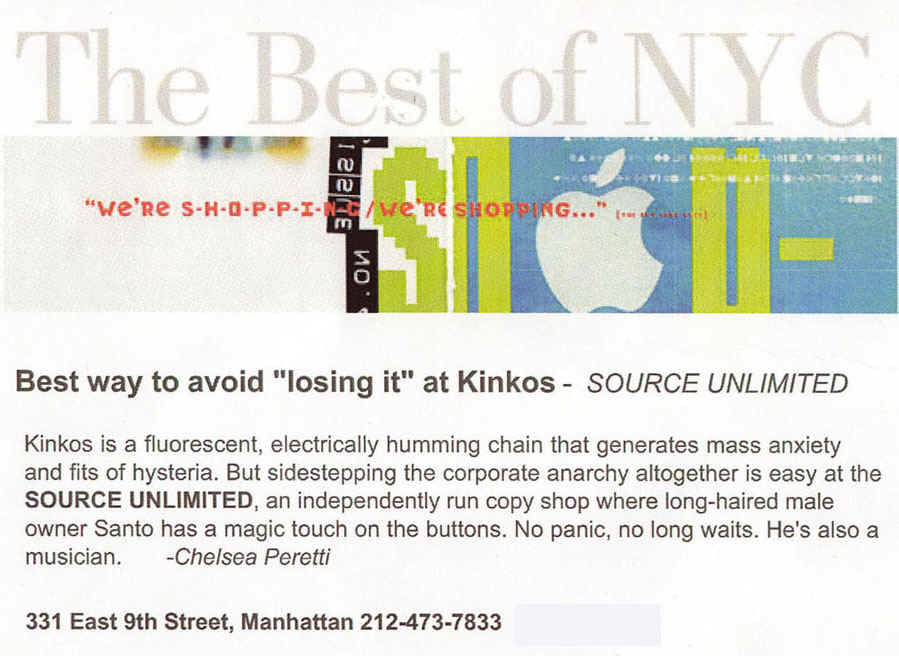 THE SOURCE UNLTD. PRINT & COPY SHOP East Village NYC
331 East 9th Street New York, NY 10003
santo@sourceunltd.com
212-473-7833

HOURS: Mon.-Thurs.10:15am-6:00pm Fri. 10:15am-5:00pm